If you're tired of the same old potato fries and want to try something new, look no further than these delicious and nutritious purple yam fries with sriracha mayo. Not only are they a beautiful and eye-catching addition to any meal, but they're also packed with antioxidants and other essential nutrients your body needs. Plus, with their crisp exterior and tender, creamy interior, these fries will surely be a hit with your taste buds. So why not step outside your comfort zone and try this recipe? You might discover your new favorite way to enjoy fries.
Ingredients
2 medium-sized purple yams
2 tbsp olive oil
1 tsp garlic powder
1 tsp paprika
Salt and pepper to taste
1/2 cup mayonnaise
2 tbsp sriracha sauce
Instructions
Preheat the oven to 425°F (220°C). Line a baking sheet with parchment paper.
Wash and scrub the purple yams under running water. Cut them into thin, even-sized sticks.
Toss the yam sticks with olive oil, garlic powder, paprika, salt, and pepper in a large mixing bowl. Mix well to ensure that each stick is coated evenly.
Arrange the yam sticks in a single layer on the prepared baking sheet, leaving space between each stick for even cooking.
Bake the yam sticks in the oven for 20-25 minutes or until they are crispy and golden brown. Make sure to flip them over halfway through cooking to ensure even browning.
While the yam fries cook, prepare the sriracha mayo by mixing the mayonnaise and sriracha sauce in a small bowl. Adjust the amount of sriracha to your preferred level of spiciness.
Once the yam fries are done, remove them from the oven and let them cool for a few minutes.
For dipping, serve the purple yam fries with the sriracha mayo on the side.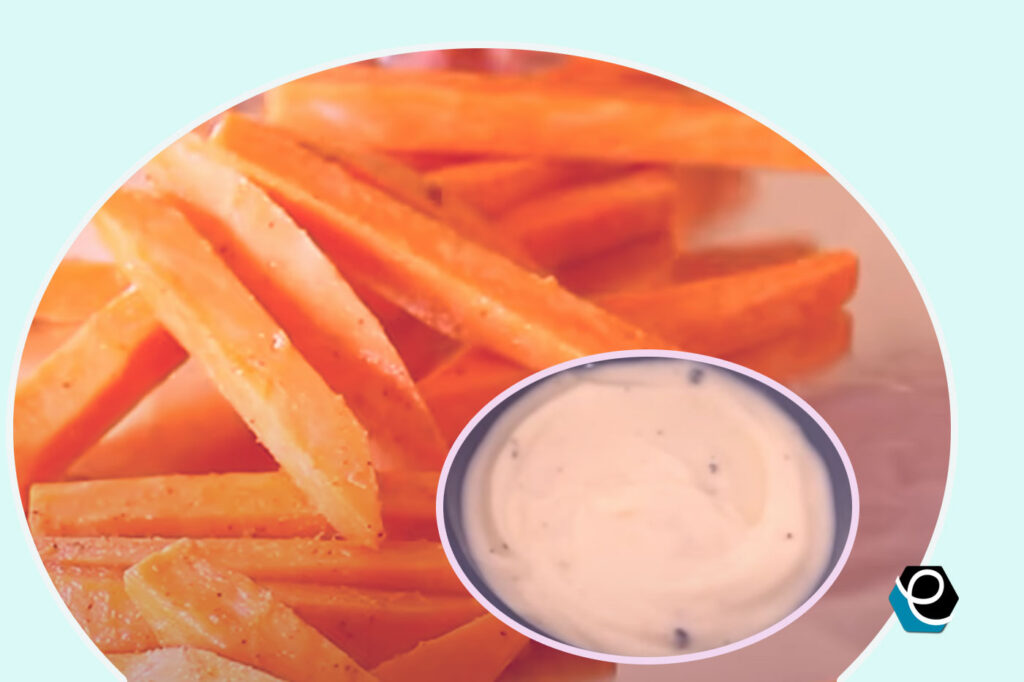 Serving Suggestions
There are many ways to enjoy your purple yam fries with sriracha mayo. Here are some ideas to get you started
Pair the fries with a juicy burger or sandwich for a delicious meal.
Serve them as a side dish with grilled meats or seafood.
Add toppings like bacon bits, cheese, and green onions to make a loaded fries dish.
Enjoy them as a snack or appetizer with friends and family.
Pair the fries with a refreshing drink like lemonade or iced tea.
Conclusion
Purple yam fries with sriracha mayo are a tasty and healthy alternative to traditional potato fries. With their vibrant color and delicious flavor, they're sure to be a hit with your friends and family. So why not try this recipe and add some excitement to your next meal?
FAQs
Can I use regular yams instead of purple yams?
Yes, you can use regular yams if purple yams are not available. However, the color and flavor will be slightly different.
Can I make the sriracha mayo ahead of time?
Yes, you can make the sriracha mayo ahead of time and store it in an airtight container in the refrigerator for up to a week.
Can I use a different dipping sauce?
Yes, you can use a different dipping sauce if you prefer. Some suggestions include ranch dressing, garlic aioli, or ketchup.
Can I fry the yam fries instead of baking them?
Yes, you can fry the yam fries if you prefer. However, baking them is a healthier option.
Can I add other spices to the yam fries?
You can add other spices to the yam fries to customize the flavor.