Leopard print tops have become a classic style that has stood the test of time. The wild print has been used on dresses, blouses, overalls, jackets, and other types of clothing. This print is popular with fashion lovers of all styles and ages because it can be used in many ways.
History of Leopard Print
Ancient civilizations like the Greeks and Egyptians may have been the first to use leopard print on clothes and accessories. In the 18th and 19th centuries, the bold and intricate pattern was also popular, especially in France, where it was seen as a sign of wealth and luxury.
But it wasn't until the 20th century that leopard print started to be worn more often in Western fashion. In the 1920s, leopard fur coats became the ultimate sign of wealth and power, and women in high society wore them to show how wealthy and powerful they were.
In the 1940s, leopard print made its way into high fashion when Christian Dior showed his famous leopard print coat in his 1947 collection. The coat was made of real leopard fur, which was controversial even at the time, but it helped make leopard print a popular choice.
Leopard print has been used in many different kinds of fashion over the years, from punk rock to bohemian to high fashion. It has also been a popular choice for shoes, bags, and jewelry, among other things.
Why leopard-print tops are so popular now
Leopard print tops are getting more and more popular right now. One reason for this is that animal prints have become popular in general in the past few years. Also, leopard print is a neutral pattern that can be dressed up or down, making it a versatile choice for any wardrobe.
Leopard print tops are easy to wear because they look good with many different colors and styles. They can be dressed up for a night out with a skirt and heels or down for a casual day out with friends with jeans and sneakers. The pattern also gives any outfit a bit of personality, making it a popular choice for people who want to show off their own style.
Celebrities and other influential people have also helped make leopard print tops popular. In the past few years, celebrities like Kendall Jenner, Gigi Hadid, and Rihanna have been seen wearing tops with leopard print. People with a lot of followers on social media have also helped leopard print tops become more popular by posting pictures of how they wear them.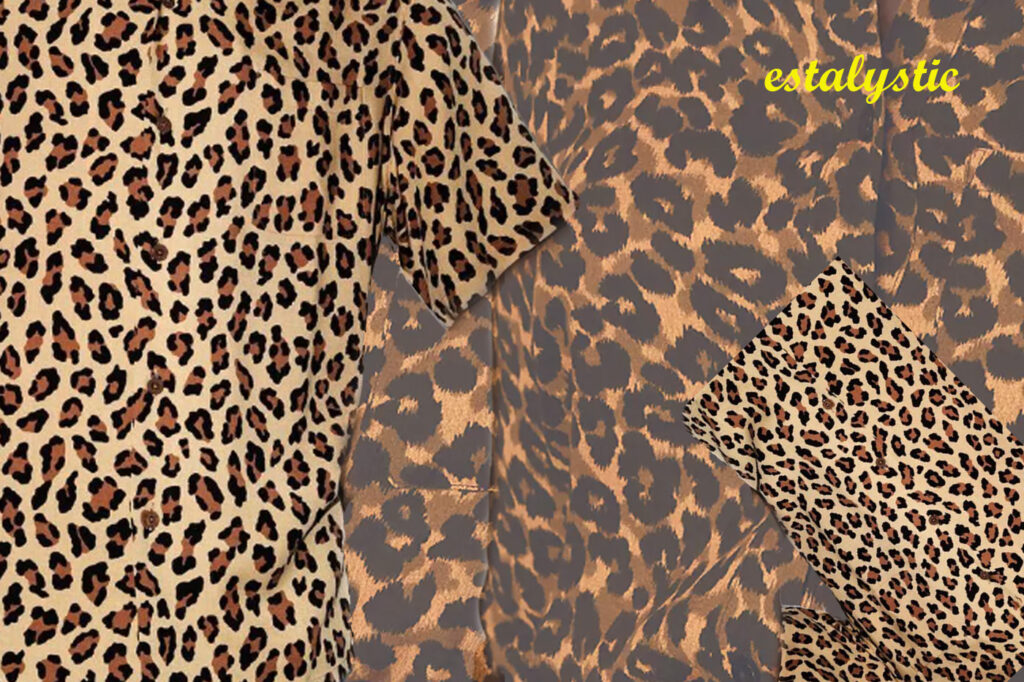 How to Wear Tops with Leopard Print
Leopard-print tops can be worn in many different ways to fit any event or style. Here are some tips for adding leopard-print tops to your wardrobe:
Put on a leopard-print top with jeans and sneakers for a casual look. This gives you a casual but stylish look that's great for running errands or meeting up with friends.
Pair a leopard-print blouse with black pants and heels to look good at work. This is a great way to give your work clothes some personality while still looking professional.
Pair a leopard-print top with a leather skirt and ankle boots for a night out. This makes a look that is bold and edgy, perfect for a night out on the town.
Pair a loose leopard-print top with a maxi skirt and sandals for a bohemian look. This makes for a fun and girly look that is great for a summer day out.
When putting together an outfit with a leopard print top, it's important to think about the other colors and accessories. Leopard print looks good with solid colors like black, white, and beige. For a more daring look, it can also be worn with bright colors like red or green. When you're adding accessories, it's best to stick to classic pieces like gold jewelry or a sleek clutch.
Tops with leopard print for all kinds of bodies
Leopard print tops can look good on many different body types if they are worn the right way. Here are some tips for picking the right leopard-print top for your body type:
If you have more curves, choose a leopard-print top with a loose fit that skims over the body. This will give you a casual but stylish look that won't cling to any trouble spots.
If you have a slimmer body, choose a leopard-print top with a tight fit that shows off your waist. This will make the body look more defined and give it some shape.
If you have a bigger bust, choose a leopard-print top with a V-neck. This will draw the eye up and make your neck look longer. This will make the proportions look better and make the look more flattering.
Choose a leopard-print top with ruffles or other details around the chest area if you have a smaller bust. This will make the top half of the body look fuller and give the illusion of a fuller bust.
How to Take Care of Tops with Leopard Print
It's important to take care of your leopard print tops the right way if you want them to last for years. Here's how to take care of your leopard-print tops:
Before you wash or clean an item, you should always read the care label.
Most leopard print tops can be washed in the washing machine on a gentle cycle, but it's best to let them dry in the air to keep the print from shrinking or getting damaged.
When you wash leopard-print tops, don't use harsh chemicals or bleach, as this can damage the print and the fabric.
If you can, hang up your leopard-print tops so they don't get wrinkled.
Conclusion
Leopard print tops are a fashion staple that can be worn in many different ways for any event. They give any outfit personality and style, and with the right styling, they can look good on a wide range of body types. If you follow these tips for how to wear and take care of leopard print tops, you can keep this trend going for years.